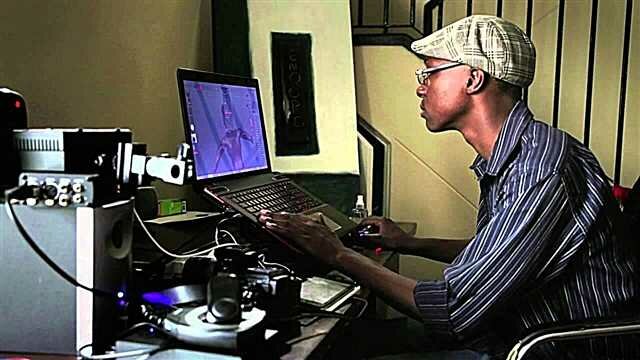 We are searching data for your request:
Manuals and reference books:
Wait the end of the search in all databases.
Upon completion, a link will appear to access the found materials.
AND NO, this has nothing to do with April Fools' Day. Google just announced the five most inspiring and innovative web-based projects in Africa at the Africa Connected Awards in Nairobi, Kenya.
Nqobizitha Mlilo (above) is a young Zimbabwean and one of the 10 finalists across the continent at the forefront of Africa's technology movement. Content as a runner-up behind the five winners, who received $25,000 each (along with expert assistance from the Google team to edge them closer to realising their goals), he spoke with me about being a self-taught tech ninja, what African innovation can teach the world, and what projects on the continent you need to look out for.
* * *
D: What would you describe yourself as?
NM: I would describe myself as an artist, director, animator, lecturer, and entrepreneur. I am largely self-taught though I did study a year at ZIVA, which is a design college in Harare, as well as RanchHouse, where I studied business administration for a short while.
Where do you see Africa in tech and innovation?
I see Africa as a huge consumer in tech. A lot of leapfrogs are happening in technology. We have seen a huge wave of innovators who have used technology to create solutions for their situations. As we move forward as a continent, these ideas will be key to evolving into what we need to become in the world space.
How is it being a techie in Zimbabwe?
I often have mixed feelings about being a techie sometimes. I love technology, it's awesome. I feel it increases productivity and efficiency. Sometimes some elements of society don't quite see it the same way. Some feel it's too invasive and still prefer an old school way of doing things. I often feel a disconnect between myself and other non-tech heads, but that is the point of evolution that we are currently at.
What 5 projects or innovators excite you on the continent and why?
Google Africa I think would be one of the most exciting tech movements in Africa. Having such a great company take an active involvement into the development of the tech space in Africa is really awesome.
The wave of mobile money services that have been implemented in Kenya and Zimbabwe. I feel they are truly tailor-made African solutions.
The Afrinolly mobile app is a great blueprint for implementing video on demand in Africa.
Tech Hubs like Hypercube in Harare, the SKi-Hub in Bulawayo, and the iHub in Kenya are significant movements in locking down innovative minds and giving them spaces to grow.
Broadband Internet that's being implemented by various governments and companies across the continent is aiding in getting the continent connected and engaged.
What can tech and innovation in Africa give to the world?
I feel that tech coming from Africa will introduce a fresh perspective in attacking problems worldwide. I think Africa will surprise the world with a new take on solutions for old problems like poverty, hunger, and war.
Are innovators really going to effect progress for the average African?
I think so. Innovators are really just glorified case studies of progress. They begin to be a blueprint in the context of an African environment. They prove what's possible. They break the rules of their environment. They challenge thinking and inspire change from an older way of looking at things.
Africa in 2020, what are you hoping for?
I am hoping for an open sourcing of intention. I feel if there is a unified thinking and plan for progress for the continent as a whole, that would move things in the right direction significantly. I think technology will act as a catalyst in that process.
To view the winning projects check out: www.africaconnected.com.
Watch the video: Panic! At The Disco - High Hopes Official Video